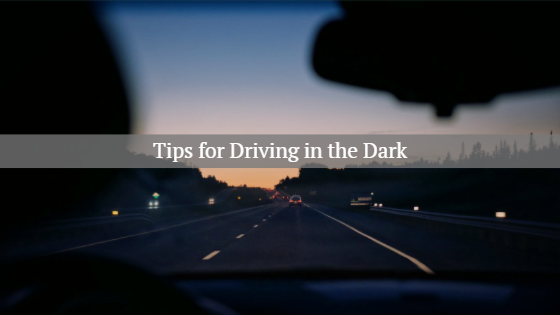 Stay Safe Driving in the Dark this Fall



Cooler weather, sweatshirts and blankets, bountiful harvests, apple cider, pumpkin picking, and shorter daylight hours are all signs that the fall season has arrived. The glorious summer sun stops shining into the 9pm hour and quickly recedes to evening darkness sooner and sooner every day. This means that driving for your evening commute and errands will most likely occur in darkness. Driving in the dark has its own set of challenges such as headlights from oncoming traffic and obstacles that may be more difficult to see.
In addition to all the comforting goodness that fall brings, it also ushers in some serious seasonal hazards. Leaves from falling trees are beautiful to look at but dangerous when combined with rain, leaving roads extremely slippery which leads to an increase in fender benders. Slow down if you happen to be out during an autumn rain shower and especially if you see debris on the road.
Fall also brings the rut, the breeding season for deer, where bucks tend to be more active and less cautious than usual. According to the Pennsylvania Game Commission, rut lasts approximately two months from October to December reaching its peak in mid November. This is also the season that auto accidents involving deer increase significantly. You should especially be vigilant during dawn and dusk when deer are most active.
Lastly, with these tips for maintaining your vehicle, you will be ready to drive this fall. You can prepare with these five easy steps:
Be sure to check the battery and charging system so you don't find yourself stranded with a vehicle that won't start.

Look closely at your tires for any damage, check the tread depth, and make sure that the spare tire in your trunk is there and in good shape.

You should also have your brakes, rotors, and drums inspected for signs of wear and tear and correct any problems you find.

Take the time to change the air filters and check the HVAC system to make sure things are operating properly.

Replace your windshield wiper blades if it has been more than six months of use without a replacement.
Ultimately, staying safe on the road starts with having the right auto insurance in place. This is the perfect time to review your auto insurance policy to make sure you have the coverage you need in case you find yourself involved in an auto accident. Set time aside to review your coverage and be sure to call your auto agent with any questions you may have.