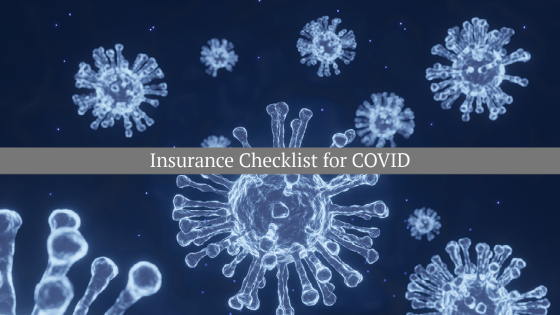 Insurance Checklist for COVID

With the uncertainty facing many businesses with constant closing and reopening, you must remain ready to face any claims that may arise. One of the most important things you can do for your business and livelihood is to make sure your insurance policies are up to date. Use this checklist to review your policies for when it is time to fully reopen your business and get back into the swing of things.

General Liability:
Claims that may arise if someone should slip and fall on your premises or should you damage the client's property is covered here. Don't let this expire even if your business is shut down, because these claims can pop up from the past as well.


Professional Liability:

Providing any professional services means you open yourself up to errors and omissions claims. Any time you provide advice, it can be interpreted a certain way. Check your limits, and be sure you have this essential coverage.
Worker's Compensation:

Worker's Comp is a crucial coverage for business owners, especially now when your employees are likely working harder than ever and claims of injuries may be higher. It's also possible you may be able to save some money here if you have been paying less payroll or have your employees telecommuting, so be sure to check with your agent.
Equipment Breakdown:

Make sure to check your policy for equipment breakdown coverage. If your business has to close, and you are unable to stop in periodically to check on things, your stock could get spoiled if some of your equipment should break down. Equipment breakdown coverage will pay to repair or replace the equipment.
Commercial Auto:

Have you added delivery services during this pandemic to help supplement some income? If so, you should look into Commercial Auto coverage. Most personal auto policies exclude coverage for this type of operation.
Cyber Liability:

Cyber-attacks are going crazy right now with a lot of the world depending so much more on the internet to do work and school. If Cyber Liability wasn't something you thought about before, you should now.
The team at Rumbaugh Insurance would love to help you navigate this insurance checklist and make sure you are ready for whatever is coming next with the pandemic and any other situations in which you need to review your insurance coverage.