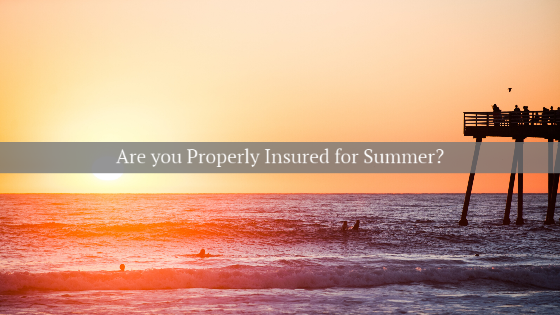 Are You Properly Insured for Summer?



Sweet summertime… longer sunny days, warm nights, cruising while listening to music, and swimming are all the things we look forward to when the weather gets warm. The summer season is so good for the soul, but the longer days and increased activities can make for more opportunity for risk of injury or property damage. Here are some of the most popular things to own or do in the summer and ways to make sure you are properly insured for this sun-kissed season.
Classic Cars – Who doesn't love getting the classic car out of the garage for a spin with the windows down and the radio up? Or maybe you are planning on buying one this summer. Either way, be sure that you get it insured on a classic car policy… Yes, there is a specific policy designed for these types of cars. Especially those that are worth more than the average vehicle. Also, you want to make sure you have enough liability coverage in case you are at fault in an accident.

Boats – Being out on the water can be good for your mental health, and we recommend it. But if you own a boat, make sure you have boat insurance. It will cover your liability if you are in a boating accident and someone is injured. Boating accidents are very common. You can minimize your risk by having a small water toy like a kayak or canoe, which will be covered under your homeowner's insurance policy.

ATV's – If you are an adrenaline junkie and have or want an ATV, check with your homeowner's insurance company. Some will provide a little bit of coverage, but chances are you will need a separate policy for it because auto insurance will exclude this type of motorized vehicle. Also, be sure to check if there are limitations on who is permitted to drive it.

Pools, Trampolines, and Playsets – Sure, it's great being the house that everyone wants to hang out at because you have a pool, trampoline, or fun swing set, but unfortunately all these things can present huge risks. Drowning happens every year with most victims being children, and just search YouTube for trampoline fails and see all the crazy things that can happen. Make sure your homeowner's insurance company knows if you have these things so you can determine if there is coverage as some exclude these outdoor items.

Travel – Of course vacation is a popular thing to do in the summer months. This means packing and moving your personal belongings. If you have not looked at your homeowner's policy in a while, it's a good time to review it before you go on your trip to make sure your personal property limits are sufficient.
While summer is a great time to be had by all, it brings with it some extra set of risks to be aware of. As your trusted local agent, Rumbaugh Insurance is here to make sure you are properly protected. Call us for a policy review today.