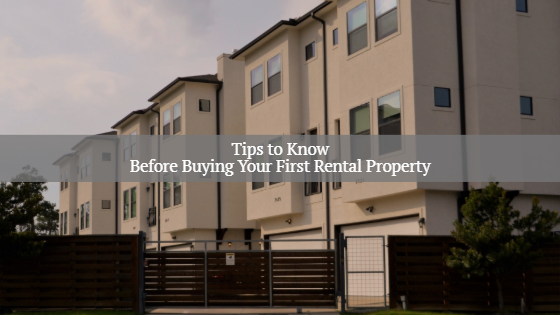 Tips to Know Before Buying Your First Rental Property
Buying your first rental property is an exciting decision and most likely one you've been pondering for awhile. For many individuals, investing in a rental property is a way to create passive income, plan for retirement, or pay for children's college education. But, like any significant financial decision, you shouldn't rush into buying the first rental property available.
Take the time to research, ask questions, and consider the available options. Here are 8 tips for making the right choice in which rental property is a good match for you.

1. Understand the time involved.
While rental properties are an attractive investment to create passive income, it is essential to understand that you will need to invest time to make it work. From repairing faulty pipes to installing new drywall, to managing tenant requests, owning a rental does require time. If you have little desire to spend your free time making repairs, you either need to hire a property manager or consider a different avenue for income.
2. Calculate the potential return on investment.
Buying a rental property that you can't find tenants for will leave you stuck with two mortgages and a lot of stress. Research the local area to understand what the average rent is currently as well as what condition the other properties are in. Knowing what you should be able to bring in monthly will show you if you can afford to pay the monthly expenses including to set aside some of the rent for improvements long-term.
3. Pay down debt.
If you currently have school loans, car loans, and medical bills, it is best to pay these off before buying a rental property.
4. Look for a property in an attractive community.
It can be tempting to look for the lowest price rental property available, but this can lead you to buy one in a shoddy area. Instead, look for rental properties in attractive communities such as college towns, popular vacation areas, or up and coming residential communities.
5. Consider the available amenities.
In addition to the location, what else will make the rental property stand out to potential tenants? Off-street parking, a backyard, and local parks are a few amenities that make rental properties stand out from others.
6. Buy at the right price.
The best realtors will be able to compare the property you are interested in to others in the area so you can be sure you are making a sound investment.
7. Request a property inspection.
Requiring an inspection before you close on a property is one of the best decisions you can make. Inspectors do walk-throughs of the property to check safety issues that may not be apparent to the average individual. Afterward, they provide a detailed report noting any potential concerns.
8. Hire a trusted realtor.
Hiring a realtor to help you find the perfect first rental property is a savvy business decision. A realtor will be able to narrow down the possibilities based on your financial and location requirements. In addition, they look out for your best interests during the buying and closing process so you have less to worry about.