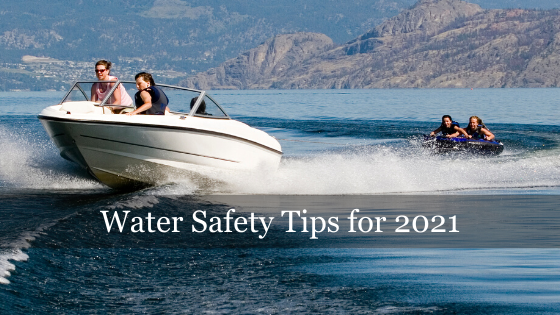 Water Safety Tips for 2021
It's been a little over a year since the pandemic has started, and after numerous canceled and rescheduled vacations, families are ready to get out of their house this summer. May is National Water Safety Month and before you, your family, and friends set sail, there are a few safety tips to keep in mind on the water this year whether you're on a boat, swimming in a pool, or hanging out on the beach.
Take A Boat Safety Course
Whether you have been driving boats for twenty years or just received your license the year before the pandemic hit, a remedial course on tips and tricks to keep your family safe on the water is never a bad idea. By taking a boat safety course and implementing rules on your boat, you are preventing hazardous accidents and setting the tone for a smooth sail. Plus, you might learn something new or be reminded of topics that may have slipped your mind since your last training.
Keep An Eye on the Weather
Boat days with sunshine and clear skies are the best days - until the dark clouds roll in. The weather is unpredictable. The weather app on your phone may have called for sunshine all week, but keep an eye on the radar before untying your boat from the dock. Especially if the clouds are looking dark and the water is rough. It is important to know what conditions to look for and when it is time to head back to shore before it's too late.
Don't Drink and Sail
Did you know you can get a DUI on the water? It's true. Just like it is illegal to drink and drive, it is the same when it comes to driving a boat. According to U.S. Coast Guard statistics, alcohol accounted for 23% of deaths in fatal boating accidents in 2019.
While it sounds like fun to have a cooler of alcohol out on the boat for the day, skip it. Wait until you get back to your condo, home, or even the beach (depending on the laws). It's not worth the life of someone you care about or anyone else's life.
Supervise Children
Never allow small children to swim alone. If they are jumping off the boat, life jackets are essential, as well as knowing you are anchored in an area where they cannot get hurt. Speaking of anchors, keep them away from those too! Most states require people on boats to wear life jackets. Even so, it's a good idea to create a zero-tolerance policy— no life jacket, no fun. Swimming is a skill that must be learned and practiced before allowing children to step off the boat into the water. The moral of the story? Keep a close eye on the kids!
Have Adequate Boat Insurance
You have worked hard for the things you have, including your boat. Whether you get into a boat accident, the weather damages your boat, or any other unfortunate event happens, you will want to have an adequate boat insurance plan to keep yourself financially protected.
At Rumbaugh Insurance, we can examine the cost and size of your vessel, as well as the appropriate amount of liability coverage to have. We also have the resources to inform you about what to do if you have an accident on the water. We've got you covered. Contact an agent today to learn more about our affordable insurance options and plans.