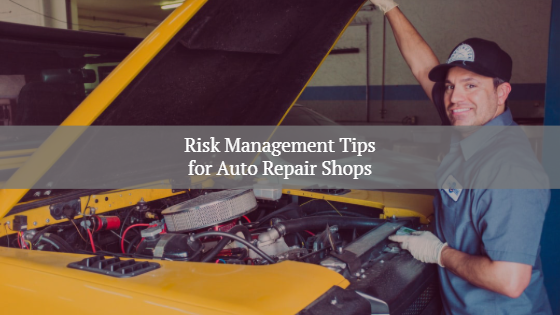 Risk Management Tips for Auto Repair Shops
As an auto repair shop, you are responsible for maintaining and repairing customers' vehicles so they can navigate from one place to another throughout their day. If you make a mistake that causes their car repair to be delayed, further damage, or an auto accident, they can sue your auto repair business.
In addition to angry or disgruntled customers, there are additional risks your auto shop can face every day. What happens if one of your technicians gets injured or a fire burns down your garage? If you have insurance in place for your auto repair business, you are one step closer to being financially protected.
Besides
business insurance
, you can also implement safety procedures or risk management procedures to help minimize accidents and risks that result in financial loss.
1. Keep the Shop Clean
Common types of accidents in an auto repair shop are slip and falls which tend to occur when areas are untidy. Be sure to clean up spills in the shop, waiting area, and service area quickly. Clearly label wet floor, so customers are aware they need to be careful. It is also a good idea to remove clutter from common areas like boxes, cords, and items that are a tripping hazard.
2. Install Surveillance Cameras
One of the costliest risks auto repair shops face is theft of vehicles, equipment, and parts. Plenty of auto shops have fallen victim to nighttime criminals who sneak in and remove parts from vehicles in the lot. Your best course of action in preventing these occurrences is to install surveillance cameras that deter criminals.
3. Protect Your Employees
Without employees and technicians, your auto repair shop would be less efficient. In addition to creating a safe work environment so they avoid injuries, you should also have worker's compensation insurance. Worker's comp pays employees medical expenses and lost wages if they are injured or get sick while working for you.
4. Prevent Fires
Establishing a fire prevention strategy in your auto repair shop is essential because of the types of chemicals you work with on a daily basis. Any oil or fluid spills should be cleaned up immediately, and all flammable liquids should be stored in properly marked containers to avoid combustion.
5. Properly Train Employees
An employee training program is something every business needs in place and should be the same for all new employees. Create a training schedule that walks employees through required safety precautions and procedures. Teach them the proper way to lift heavy objects, clean spills, and where items should be stored when not in use. It is also pertinent that auto repair shops train employees on how to properly use lifts to avoid accidents.
If you have questions about insurance or risk management for your auto repair shop, contact the
insurance professionals
at Rumbaugh Insurance today.